History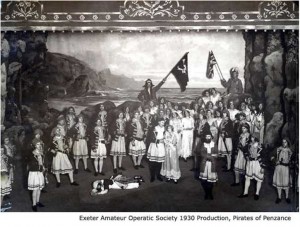 Exeter Amateur Operatic Society (EAOS) was formed in 1904 and is Exeter's oldest amateur musical society. Our first production, The Pirates of Penzance, was staged in 1905 at the Royal Public Rooms in London Inn Square, in the very heart of the city. A huge success, it was decided to stage another show in December that year, but this time at a much grander venue ― Exeter's much-loved Theatre Royal, which could seat 900 patrons. Shows continued here for one week every year until 1916, resuming again in 1920 after the first World War. Productions continued until the outbreak of the second World War in 1939. The first production after that was Merrie England in 1946. Productions were staged every year at The Theatre Royal until it was closed 1962, and demolished the following year. A sad day for Exeter's theatrical history.
For the next two years the Society presented shows at St. George's Hall (now the Corn Exchange) in Market Street until a new home was found at the Savoy Cinema ─ in London Inn Square, just across the road from the old Theatre Royal. In 1965 the Society opened there with Oklahoma! ─ one of the most popular post-war shows, playing to an audience of well over 1,000 patrons per night. Those were the days!!
In 1969 the Society presented The Gondoliers as a second show at the recently opened Northcott Theatre on the University campus, although the Society returned to the ABC Cinema (as the Savoy Cinema was then called) for a further three years until that, too, was demolished.
Cork-popping Pink Champagne was the choice for the Society's opening at the Northcott Theatre in 1973 and it is here it has presented its main productions every since.
At the July 2009 Annual General Meeting, a name change was proposed. The Society accepted progress, and the fact that in more recent years it had seldom produced operettas, a proposal was put forward that the Society should now be called The Exeter Musical Society. The majority of members voted in favour of this and hence that is now the name of the Society ─ or E.M.S. for short.
We have a proud history and tradition in Exeter, as we are the only amateur society in Exeter to stage musicals at a professional theatre, with a full orchestra, employing a Director, Choreographer and Musical Director, aiming to present shows of the highest standard.
Of course, we always seek new members to keep the Society alive and thriving ─ whether acting, singing, dancing, backstage, front-of-house, or becoming a Patron to simply support us. If you think you would enjoy any of those, then feel free to get in touch with us. You will be made welcome!