Spring Show 2018 – Oliver
EMS is pleased to announce that the spring 2018 show will be Oliver! The show will be performed at the Exeter Northcott Theatre, 2nd – 7th April 2018.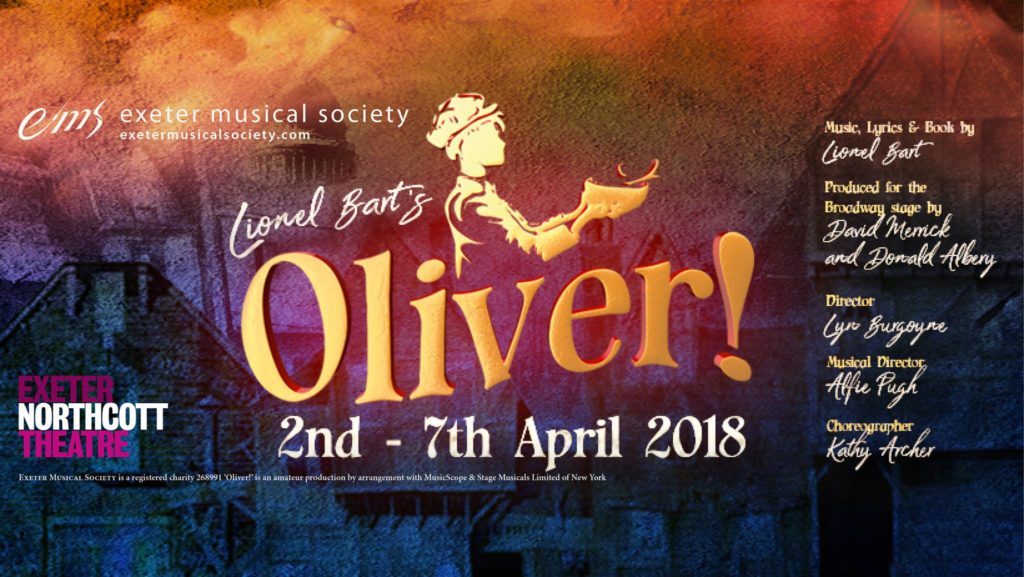 Bringing Charles Dickens' beloved novel to life, Lionel Bart's Oliver! takes audiences on a wild adventure through Victorian England. Join young,orphaned Oliver Twist as he navigates the London's underworld of theft and violence, searching for a home, a family, and – most importantly – for love. When Oliver is picked up on the street by a boy named the Artful Dodger, he is welcomed into a gang of child pickpockets led by the conniving, but charismatic, Fagin. When Oliver is falsely accused of a theft he didn't commit, he is rescued by a kind and wealthy gentleman, to the dismay of Fagin's violent sidekick, Bill Sykes. Caught in the middle is the warm-hearted Nancy, who is trapped under Bill's thumb, but desperate to help Oliver, with tragic results. With spirited, timeless songs like "As Long as He Needs Me," "Food, Glorious Food," and "Where is Love," Oliver! is a musical classic.
Source: stageagent.com
If you are interested in being part of this production please email: membership@exetermusicalsociety.com.
Information for cast members of Oliver! including the rehearsal schedule can be found on the Members page. Please note that this is password protected and only current members will have the password.
Production Team
The production team for Oliver is:
Director – Lyn Burgoyne
Musical Director – Alfie Pugh
Choreographer – Kathy Archer
Cast List

OLIVER – Thomas Robinson and Jack Pool
DODGER – George Saunders and William Robinson.
FAGIN – Phil Hominid-Ward
NANCY- Samantha Ottaway
BET – Sophie Smith
BILL SYKES – Robert Barker
MR BUMBLE – Nic Hake
WIDOW CORNEY – Rachel Barker
MR SOWERBERRY – Josiah Carrier
MRS SOWERBERRY – Tina Blaker
NOAH CLAYPOLE – Joe Quiruga
CHARLOTTE – Stephanie Yiannouka
MR BROWNLOW – Joe McNulty
MRS BEDWIN – Elaine Kingston
PAUPER SERVANTS – Daryl Wood, Bev Little, Jonny Robinson, Mollie Guerin
Old Sally – Leslie
Rose Seller – Livi Crook
Milkmaid – Sarah Butler-Evans
Strawberry Seller – Sally Ewin
BULLSEYE will be played by Murray the dog.
Tickets are now available for Oliver via the Northcott Theatre Website.