Spring Show 2018 – Oliver
EMS is pleased to announce that the spring 2018 show will be Oliver! The show will be performed at the Exeter Northcott Theatre, 2nd – 7th April 2018.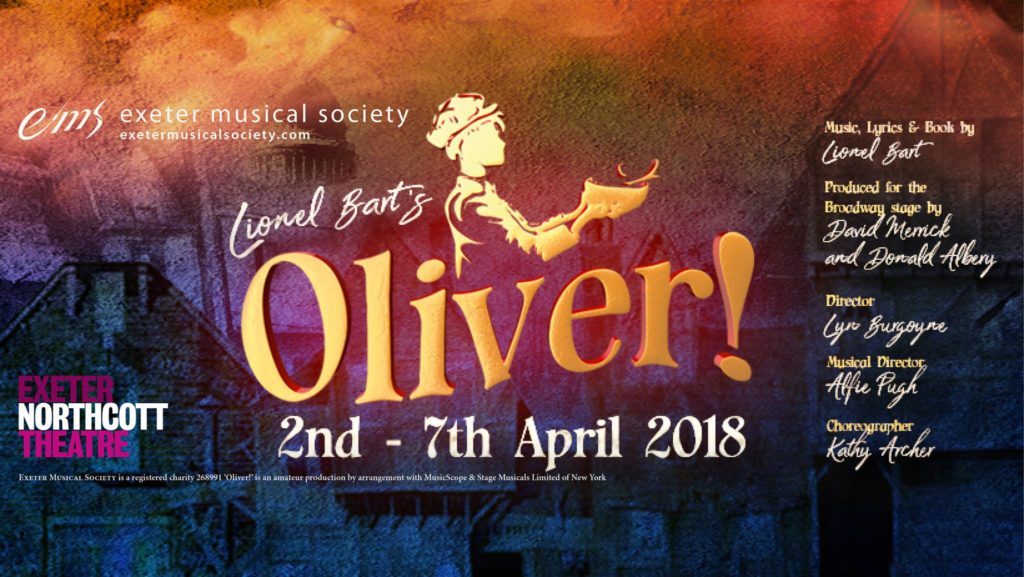 Bringing Charles Dickens' beloved novel to life, Lionel Bart's Oliver! takes audiences on a wild adventure through Victorian England. Join young,orphaned Oliver Twist as he navigates the London's underworld of theft and violence, searching for a home, a family, and – most importantly – for love. When Oliver is picked up on the street by a boy named the Artful Dodger, he is welcomed into a gang of child pickpockets led by the conniving, but charismatic, Fagin. When Oliver is falsely accused of a theft he didn't commit, he is rescued by a kind and wealthy gentleman, to the dismay of Fagin's violent sidekick, Bill Sykes. Caught in the middle is the warm-hearted Nancy, who is trapped under Bill's thumb, but desperate to help Oliver, with tragic results. With spirited, timeless songs like "As Long as He Needs Me," "Food, Glorious Food," and "Where is Love," Oliver! is a musical classic.
Source: stageagent.com
If you are interested in being part of this production please email: membership@exetermusicalsociety.com.
Production Team
The production team for Oliver is:
Director – Lyn Burgoyne
Musical Director – Alfie Pugh
Choreographer – Kathy Archer
Important Dates
25/09/17 Meet and greet St Nicks School 7.30pm
28/09/17 Audition Pieces St Nicks School 7.45pm
01/10/17 Open Auditions for children St Nicks School 12.00pm – 4.00pm
02/10/17 Singing Rehearsal St Nicks School 7.30pm
05/10/17 Singing Rehearsal Coaver Club 7.30pm
08/10/17 Call back auditions for children St Nicks School 12.00pm – 4.00pm
09/10/17 Principal Auditions St Nicks School times T.B.C
12/10/17 Auditions for all other parts Coaver Club times T.B.C
Information for Parents – from Lyn Burgoyne, Director

Auditions will be held on Sunday 1st October at between 12 noon and 4pm at St Nicholas School, Ringswell Ave, Exeter EX1 3EG with callbacks on 8th October, same time, same place.
AUDITIONS
For the first auditions on 1st October your child will need to sing part of the first verse of Food Glorious Food alone, read a small piece of script (this will be available on the day) and a small piece of uncomplicated choreography taught in the audition. We will audition 4 children at a time.
If your son/ daughter is successful he/she will be called back on 8th October where we will have a workshop and look at more detailed libretto and voice work.
We will then cast the appropriate parts and junior chorus and they will be informed via email. If you do not receive an email then your child will not have been successful.
REHEARSALS
Rehearsals will take place on Mon and Thursday evenings and every other Sunday afternoon from 12 – 4, not all children will be called on every rehearsal or every Sunday rehearsal and I will accommodate those children involved in other projects. However, I do expect full commitment to rehearsals.
PERFORMANCES
There will be a small performance fee for each child. The performances will be shared between 2 teams and each team will have 4 performances on The Northcott Theatre Stage.
Children will need to be chaperoned at all times whilst at the theatre however chaperones are not required at rehearsals. Your child can be left with the production team during rehearsal times.
Licences are required for children to perform and these will be coordinated by the production team closer to the performances.
I look forward to meeting you all on October 1st. I expect you may have a wait so bring snacks and drinks and parents WILL BE expected to stay with their child during the auditioning process on 1st October but will not be needed to remain on 8th October.